Previously The Centre for Community Finance Europe (CFCFE) launched in 2017, the Centre changed its name in memory of its co-founder, first chair and driving force - Ralph Swoboda.
The Centre's focus is on the practical realities of delivering financial services such as loans, savings and insurance on an ethical and socially beneficial basis to individuals and micro- to medium-sized enterprises. Our research addresses strategic and tactical/operational issues of sustainability, such as corporate governance, business strategy, product/service development and risk management.
The Centre undertakes research across Europe, informed by experience and knowledge from around the world, but aimed at local solutions.
The Centre also offers training and advisory services, delivering actionable guidance to organisations, practitioners and national and local government policymakers.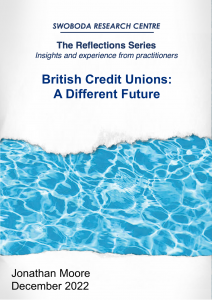 Jonathan Moore

This paper is part of Swoboda's Reflections series, which provides a platform for practitioners to share their experience, insights, and ideas with the credit union movement and its stakeholders.
In this paper, Jonathan Moore - ex-CEO of Stockport Credit Union - considers the challenging environment that credit unions are facing and the impact on credit unions' members.
For more of the Reflections series, click here
To download a copy of the paper, click here